Salmon Country
May 01, 2023
---
In rural Alaska, communities are coming together to protect a way of life that revolves around salmon
By Ananya Bhattacharyya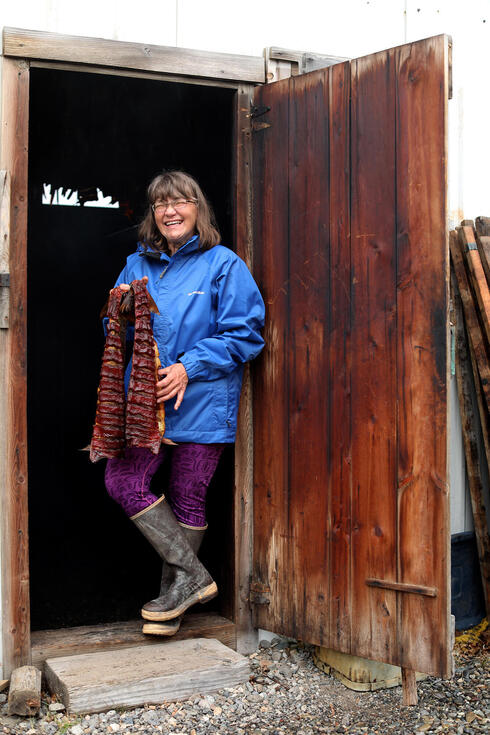 © BRIAN ADAMS
CarolAnn Hester, who practices subsistence fishing in Naknek, stands in front of her smokehouse holding fillets of smoked salmon. Inside her home, she cans salmon to eat during the winter months, using a technique she learned from her mother.
CarolAnn Hester presides over a massive pressure cooker, surrounded by an array of small mason jars and large salmon fillets. Her sentences are short and lyrical, brimming with assertions. "The big secret to putting up good fish is to get the blood out," she says. "Soak, soak, soak, soak, soak."
Each summer, Hester comes to Naknek, a small village in southwestern Alaska, where she has a house and catches around 500 to 600 fish on her skiff. Some of the catch is frozen, but the rest makes its way to her smokehouse. To cure the fish, she soaks them in clean water and then in brine—repeatedly. Some salmon sides are smoked for three days, then cut into small strips and packed into mason jars before being pressure cooked. "This is what we call kippers," Hester explains. She learned to make this from her mother, who "learned from an old man upriver by going up to his house four summers in a row."
The rest of the fish spend between a week and 10 days in the small smokehouse next to her house, glowing ethereally when sunlight touches their oily surface. Each rectangular cut shrinks slightly with time but holds firmly to the tough, glazed skin. The air here is warm with the smell of woodsmoke. In the mouth, the flesh is chewy, yielding slowly. The flavor, birch and ocean, can overwhelm the tongue. Hester's smoked salmon is so delicious that people stop by unannounced to buy what she can spare.
Many rural Alaskans—like Hester—preserve their catch for an entire year by freezing, canning, or smoking it. Preserving food is part of a cultural heritage and a necessity. Food costs in Alaska are sky-high because of Alaska's geography and seclusion.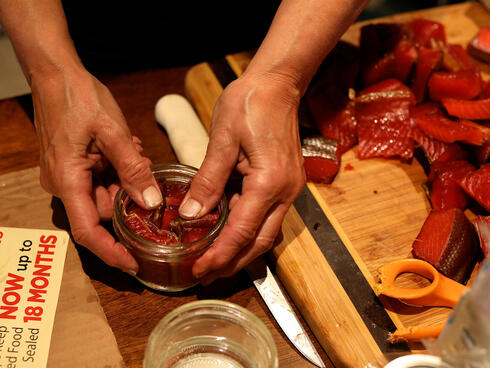 © BRIAN ADAMS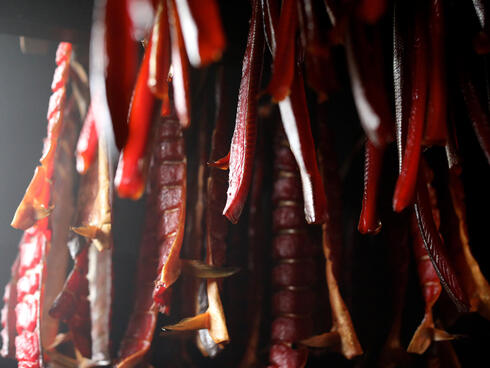 © BRIAN ADAMS
"A packet of chicken for dinner can cost $30 in rural Alaska," says Steve MacLean, the managing director of the WWF-US Arctic Program. "Being able to use the resources from the land is an extremely important part of living out in these parts," he says.
According to the Alaska Department of Fish and Game, 75%–98% of people living in rural Alaska harvest fish and 48%–70% harvest game.
"If those resources become scarcer and more difficult to get, meeting your basic needs becomes more challenging," says MacLean, whose hometown of Utqiagvik is at the northernmost tip of Alaska.
Hester points out that not only do humans fish, but so do bears, foxes, wolves, beavers, and otters. "Fish make this land alive," she says. But the reality is that climate change and other human-made factors pose very real threats to fisheries in Alaska, which is something people in the Bristol Bay region worry about.
A Village That Fishes for the World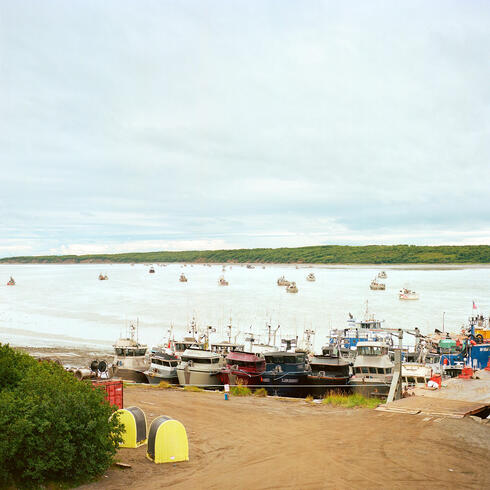 © BRIAN ADAMS
In summer, after the surrounding lowlands of Bristol Bay have emerged from under several feet of snow, Naknek—a village with a few hundred permanent residents, connected to one other village by a single road—becomes a bustling hot spot. Older models of cars, which were brought here by barges, roll up and down the Alaska Peninsula Highway. And people—thousands of them—fly in for commercial, subsistence, or sports fishing.
Unlike the skiffs owned by subsistence fishers like Hester, the larger vessels bobbing like a giant maritime orchestra on the water near Naknek are commercial fishing boats. While the state constitution allows every Alaskan to fish, hunt, and trap animals for their own subsistence, fishing permits can be worth hundreds of thousands of dollars, and many Bristol Bay residents sell theirs to outsiders, especially if they face major expenses—for instance, a roof that needs replacing or their kids' college fees. Residents account for only a quarter of the commercial salmon fishing permit holders in the area.
At the start of fishing season, each commercial boat signs up with a seafood processing and freezing facility. In June and July, tender boats carry huge hauls from the commercial vessels to the facilities, where seasonal migrant workers process the catch for retailers around the country.
"Fish make this land alive."
CAROLANN HESTER
NAKNEK, ALASKA
Last year, the Alaska Department of Fish and Game reported a total run of 76 million sockeye salmon in Bristol Bay—a record-breaking number—of which fishers were able to harvest 58 million. Even in non-banner years, nearly half the world's wild sockeye harvest comes from Bristol Bay. Valued at $1.5 billion, its salmon fishery supports more than 15,000 US jobs.
And while people here—including commercial fishers—are happy with the recent sockeye runs, they don't take anything for granted. Clues about what local folks here are worried about abound in Naknek: "No Pebble Mine" bumper stickers and T-shirts are hard to miss.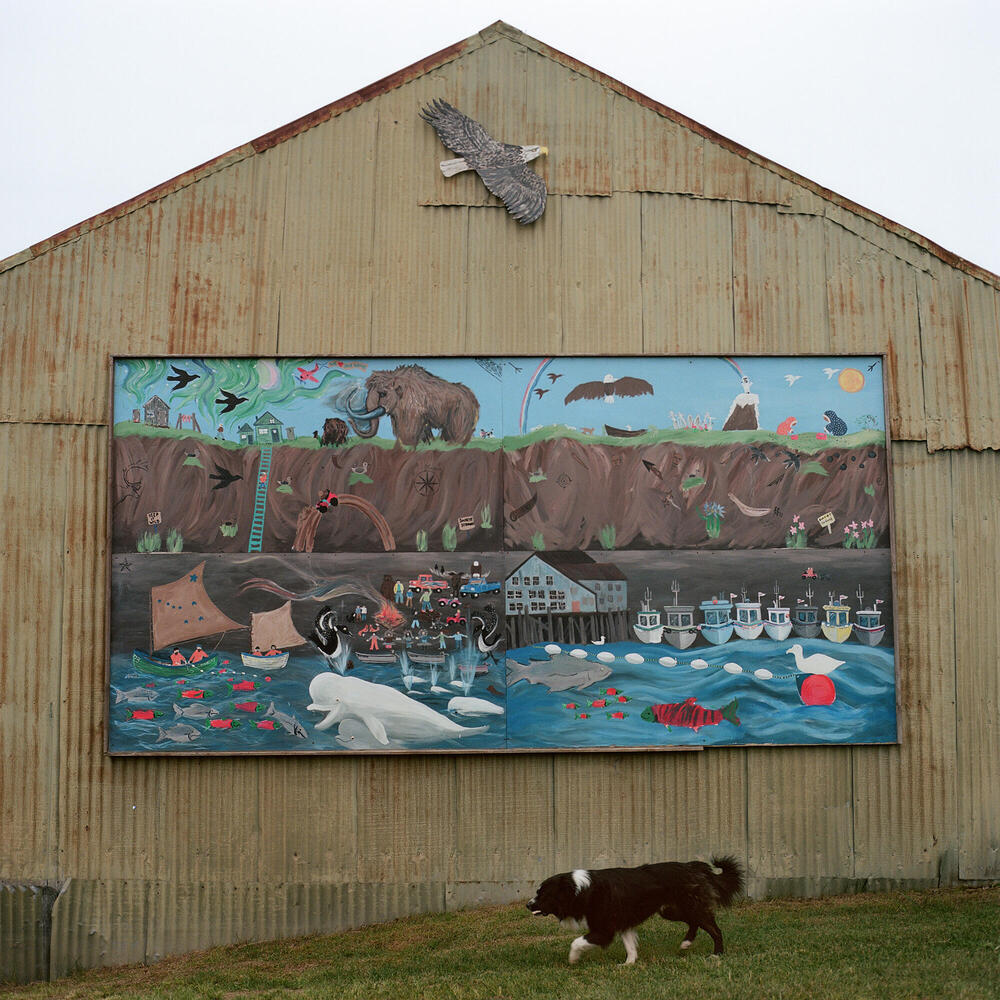 © BRIAN ADAMS
A mural depicting wildlife and fishing scenes adorns a building in Naknek.
A Mine on People's Minds
"There's an 800-pound gorilla in the room," says MacLean, as he looks over Bristol Bay's flatlands. He's referring to the proposed Pebble Mine 100 miles northeast of Bristol Bay, the plans for which include extracting 1.5 billion tons of material from deposits there and building a huge power plant and a transportation corridor. Area residents, conservationists, and scientists fear that extracting copper, gold, and molybdenum at the proposed site, which would create up to 10.2 billion tons of waste, would wreck more than 100 miles of streams, polluting salmon spawning ground and harming the ecosystem.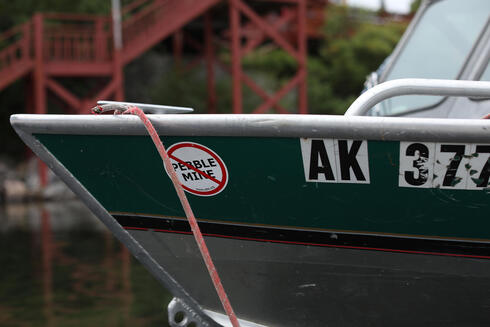 © BRIAN ADAMS
Through "No Pebble Mine" stickers, Bristol Bay fishers raise their voices against the threat to the fishery they depend on. Fishing boats in Bristol Bay harvested 58 million salmon in 2022—a record-breaking year.
The deposits were discovered here more than 30 years ago, and the prospect of the mine has been looming ever since. From the beginning, WWF, in alignment with local communities and other environmental organizations, encouraged its members and supporters to voice their concerns. In 2018, nearly 220,000 WWF activists did so, asking the US Army Corps of Engineers to deny a permit to the mine developer.
At last, in November 2020, the Corps denied the permit. And more recently, the Environmental Protection Agency (EPA) indicated its intention to protect Bristol Bay by applying Clean Water Act protections to prohibit disposing of mine waste in the watershed. WWF again asked its supporters to weigh in, this time to urge the EPA to permanently protect the headwaters, and more than 20,000 supporters heeded our call. In December 2022, the regional administrator of the EPA issued a recommendation to the headquarters to veto Pebble Mine. And in January 2023, the EPA banned the dumping of mining waste in part of the bay's watershed.
But no matter the victories, like a game of Whac-A-Mole, news of the mine's proposed development keeps popping back up. "The mine rises to the top of people's thoughts here," says MacLean. "It has nearly been approved several times."
Clearly, the fight to protect the bay is still not over. And an important piece of the puzzle isn't in Bristol Bay but upriver, near Lake Iliamna, where a tiny village with only 35–40 residents has come to play an outsize role in the future of Bristol Bay.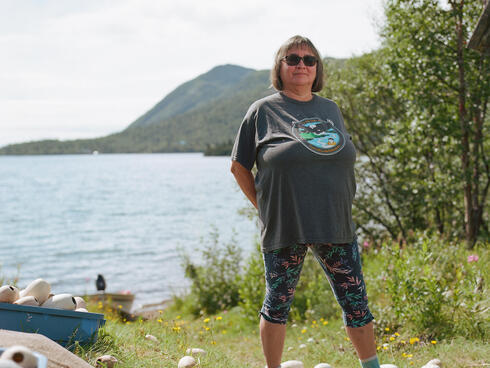 Beverly Cloud was among the majority of Pedro Bay Corporation shareholders who decided to say no to Pebble Mine.
© BRIAN ADAMS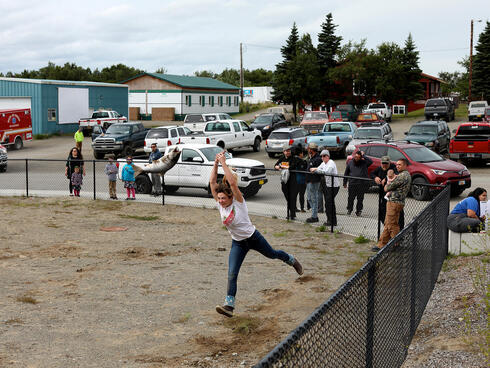 Downstream, in Naknek, children toss a salmon at the Bristol Bay Fishstival, celebrating the end of a good fishing season.
© BRIAN ADAMS
Ready to Act
Pedro Bay Rivers Project
The goal of this project is to conserve 44,000 acres of habitat around Lake Iliamna by placing three conservation easements on lands owned by Pedro Bay Corporation, ensuring sockeye salmon can return upstream to spawn in the future.
MAP PRODUCED BY THE CONSERVATION FUND
KEY
Pedro Bay Rivers—Project Area
Salmon Stream—Documented
Other Streams
Pebble Transportation Route (proposed)
Pebble Mine Facilities (proposed)
Large schools of intensely red sockeye salmon returning from Bristol Bay pulse in streams and creeks edged with clusters of fireweed blossoms near the village of Pedro Bay. It sits at the northeastern end of Lake Iliamna, not far from the proposed location of Pebble Mine. The area, with its picture-perfect beauty—alder, cottonwood, spruce forests; termination dust (the first sprinkling of snow at the end of summer) on mountains; clear streams; and a giant, sparkling lake—forms the watershed for Kvichak River, which ultimately flows into Bristol Bay.
"If it will help us to preserve our way of life and protect the salmon fisheries for my grandchildren and my grandchildren's children, that's a good trade-off."
KEITH JENSEN
PEDRO BAY VILLAGE COUNCIL
Pebble Mine, if it were developed, couldn't exist in isolation. A road would have to be built for the mine to access a port, and this road would pass through land owned by the Pedro Bay Corporation, one of 200 Native village corporations that own land across Alaska. This road would inject development into an untouched landscape.
"There are times when Alaska Native communities have the right to move their land into development to support their economics," says Matt McDaniel, chief executive of Pedro Bay Corporation. But, he says, after considering the matter closely, 90% of the corporation's shareholders decided to say no to Pebble Mine.
Sarah Thiele, treasurer of the Native Corporation board, lives in Anchorage and returns to Pedro Bay every summer—to her stilt house by the lake, right next to a creek. "Solid backs of red salmon" go up the creek during spawning season, she says. Maintaining the house isn't for the fainthearted, given the rough weather, she admits, but love for the place—inherited from her father—and for the salmon makes her return every year. Her father was a commercial fisher, her mother fished for subsistence, and one of her daughters is a commercial fisher. "This is the headwater of the greatest salmon fishery," she says. "It's so important to keep it pristine."
Beverly Cloud, who spent summers with her grandma in Pedro Bay and is now on the board of directors of the corporation, says she listened to what the Pebble Partnership had to say with an open mind. But when she visualized an industrial road and a gas pipeline being developed nearby, she realized that it would change the entire landscape. "The region is not even remotely prepared for the social changes of something like that," she says.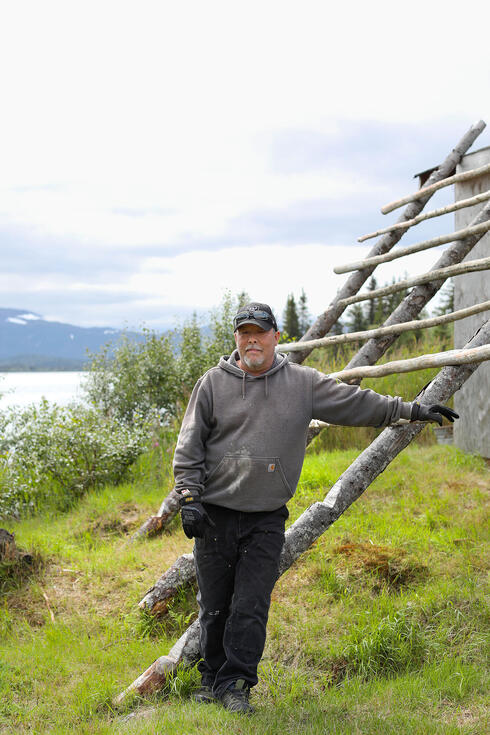 © BRIAN ADAMS
Keith Jensen, president of the Pedro Bay Village Council and one of this area's few year-round residents, says it costs 90 cents a pound to bring food to Pedro Bay. That's why residents gather berries, hunt moose, and fish salmon and trout. "We smoke [salmon], salt it, freeze it, fry it," he says.
So the corporation decided to offer up conservation easements on 44,000 acres of its land to The Conservation Fund, an environmental nonprofit, for $20 million. In other words, they gave away their development rights to that land in exchange for conserving it, even as the land itself remains in the hands of the corporation. The arrangement provides financial security to the Pedro Bay Corporation and its shareholders, and at the same time achieves a great conservation victory: blocking the road Pebble Mine would need.
The success of this Pedro Bay project reinforces the importance of partnerships in this region. WWF, The Conservation Fund's partner in the project, helped raise a portion of the last $5 million needed through the Bristol Bay Victory Challenge (coordinated by the Alaska Venture Fund with 12 partners, including WWF). Other long-term goals of this five-year, $50 million effort include passing state and federal legislation to permanently protect Bristol Bay and to increase funding for Indigenous communities here.
"We are committed to protecting the terms of that conservation easement in perpetuity," says McDaniel.
Entering an agreement like this forever isn't easy, admits Keith Jensen, president of the Pedro Bay Village Council and one of this area's few year-round residents. "But if it will help us to preserve our way of life and protect the salmon fisheries for my grandchildren and my grandchildren's children, that's a good trade-off."
"The Bristol Bay Victory Challenge is a simple and elegant solution to a complex and long-standing problem," says Diane Moxness, a WWF National Council member, longtime donor, and one of the challenge's generous supporters. "In supporting the Challenge, it's my hope that we can, once and for all, put an end to Pebble Mine and permanently protect the Bristol Bay watershed and its fisheries, while also creating sustainable economic opportunities for local communities."
The Road Ahead
Residents of Pedro Bay, conservation organizations, commercial fishers, activists, and many others joined forces to fight a very real threat to Bristol Bay's salmon ecosystem. But there's more work to do. Climate change is causing shifts in Alaska that are hard for communities to keep up with. For instance, salmon populations have been crashing in the Yukon, Kuskokwim, and Nushagak rivers. And threats to food security are increasing in rural Alaska.
Steve MacLean emphasizes the need to build trust as WWF moves forward with our work in Alaska. "If we can demonstrate that we showed up at this one place, worked with the community there, met their expectation, then we've started to earn trust. People will be willing to say, 'Alright, these people showed up and produced the results they said they would. Now let's work with them.' I'm so excited to see what happens with other communities."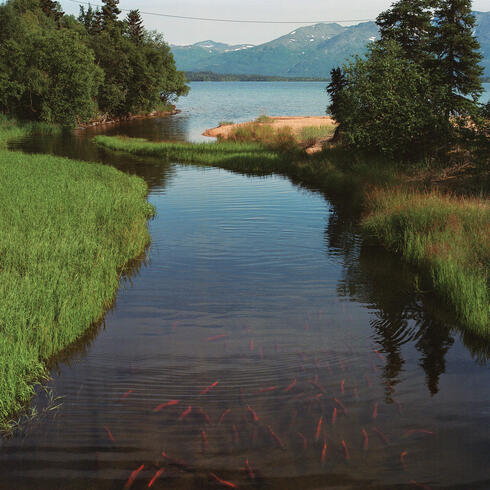 © BRIAN ADAMS
A Roundtrip Journey
Young sockeye salmon spend one to two years maturing in streams, creeks, and lakes before heading out to the ocean as small fish. They remain in the ocean for another two to three years before making an upstream journey back to their birthplaces to spawn.
In Bristol Bay, they get a little help from the Alaska Department of Fish and Game. Each year, the department sets certain "escapement goals" for salmon. Fishing in the bay can only begin when the desired number of salmon have escaped upriver, which increases the possibility of healthy populations of salmon returning to the bay in subsequent years.
And so, millions of sockeye salmon band together in large groups and swim miles and miles against the rushing current with unwavering determination to reach their birthplaces. As the fish near their destination, a splendid transformation takes place. Their skin turns bright red, as the red pigment in their flesh travels to their skin. This is a signal to prospective mates: They are ready for the final chapter of their lives.
When they reach the spawning grounds, females dig a few shallow cavities to create their nests. As soon as a female releases eggs, its male partner, which waits nearby, fertilizes them. The spawned-out fish—their bodies already starting to decay—remain near the nests for a week before dying and returning precious nutrients into the stream.
Return to list.